Posts Tagged 'ナレーション'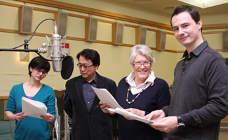 My collaboration with NHK started in 2012 will go on this year !
From april 2013, you will hear me on

both TV and radio French programs

!
Starting from april 1st, you will be able to hear my deep voice, doing some shorts dialogues in the daily french program on Radio NHK 2 !
https://cgi2.nhk.or.jp/gogaku/french/kouza/
And from april 3rd, I'll be the French narrator of the weekly program « TV de Furansugo » on NHK E-tv (channel 2).
https://cgi2.nhk.or.jp/gogaku/french/tv/
Here's the monthly textbook based on the daily show :
http://sp.nhk-book.co.jp/text/detail/index.php?webCode=09113042013
  2012年に、NHKとのコラボレーションを始めましたが、今年も続けます!
2013年4月から、NHK テレビとラジオのフランス語の番組に、両方参加致します!
4月1日から、NHKのラジオ第2の「まいにちフランス語」で、色々なスキットを読みます。放送は、平日、午前 7:30〜7:45、再放送は、午後 2:30〜2:45
4月3日から、NHKのEテレの「テレビでフランス語」で、全てのVTR のナレーションを致します。放送は、水曜日、午後 10:25〜10:50、再放送は、午後 0:00〜0:25
どちらの番組でも、是非、聞いて/見て下さいませ!
4月号の「まいにちフランス語」のテキストです: